"How green are electric vehicles? Depends on where you plug them in" is a headline sparked by the release of the Union of Concerned Scientist [i]report which claims that electric cars may not be as sustainable solution for the transportation industry, the second largest carbon emitting sector after energy [ii]. The New York Times reporter, Paul Stenquist, posits that if electric vehicles (EVs) rely on natural gas or renewable sources to power their engines, then carbon dioxide emissions are seriously reduced[iii]. But if engines are powered by coal, then electric cars may not be even as good as combustion engine vehicles. The Punch Powertrain Solar Team addresses one of the greatest problems facing the electric automotive industry–the electric vehicle which runs on coal-fired electricity. They attempt to respond to this issue, by producing an electric vehicle totally powered by one of the most sustainable resources in the universe, the sun.
Another life cycle assessment study published in 2011 found that the carbon advantage of an electric vehicle over a similar conventional petrol car could be as small as 4%, and that "drivers wanting to minimize emissions could be better off buying a small, efficient petrol or diesel car."[iv]Thus, it cannot be fully demonstrated that EVs offer an environmental benefit over petrol/diesel vehicles when assessed over time.
The Punch Powertrain Solar Team offers a solution by producing an EV that can ONLY run on renewable electricity, which is generated by photovoltaics fixed on the roof and the hood of the vehicle. While they only have one prototype (pictured), this car is much faster than the previous 6 models that were built by former students.  It is also more aerodynamic than the previous models which greatly reduces wind resistance, and in turn, uses less power and allows the vehicle to reach speeds of up to 120km/hr.
In a nutshell, the Punch Powertrain Solar Team, which is composed only of students from the Faculty of Engineering Technology at KU Leuven, competes in the World Solar Challenge, the world championship race for solar cars. It is a contest which started 28 years ago, but KU Leuven has been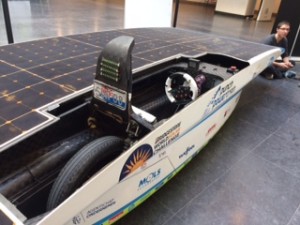 participating for the past 12 years. Each year the competition becomes more and more fierce, with the theme changing annually. Nevertheless, the Punch Powertrain Solar Team managed to come in 5th place last year.
Another environmental challenge recognized by the team within the EV automotive industry is recyclability. As one may know, the difficulty with recycling an energy-efficient commodity is the use of small, composite materials.  EVs contain energy efficient components made up of many composite materials to power the vehicle. On one hand this allows the car to be lighter and run more smoothly on high density energy; on the other hand, it makes separating and recycling individual components nearly impossible. The team, however, combines both by using an organic resin for their composite materials. The resulting organic content of the car is 18%, while keeping the weight to a minimum. The neodymium iron boron rare earth permanent magnet remains inside the motor.
Karel Winderickx, the Punch Powertrain solar team member and public relations representative, confirms that they are trying to, "centralize the source of where the energy comes from." He and his team are anxious to show people what is possible with technology today. KU Leuven stands behind the Punch Powertrain solar team to support their mission to stimulate young people to think holistically when it comes to sustainable innovations.
Works Cited
[i] http://www.ucsusa.org/clean-vehicles/electric-vehicles/emissions-and-charging-costs-electric-cars#.VwpaNvl95D8
[ii] http://ec.europa.eu/clima/policies/transport/index_en.htm
[iii] http://www.nytimes.com/2012/04/15/automobiles/how-green-are-electric-cars-depends-on-where-you-plug-in.html?_r=1
[iv] Ben Webster, Electric cars may not be so green after all, says British study (The Times/The Australian, 10 June 2011).